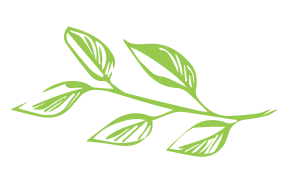 Great supplements start with quality ingredients. At Pure Essence, we certify the purity, potency and integrity of all of our ingredients.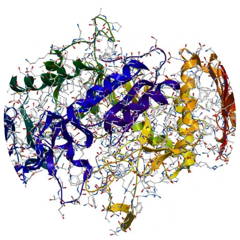 A fiber digesting enzyme that breaks down the cell wall of Candida.*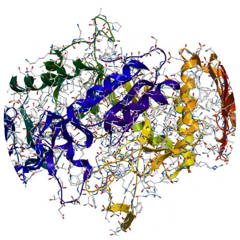 A fiber digesting enzyme that breaks down the cell wall of Candida.*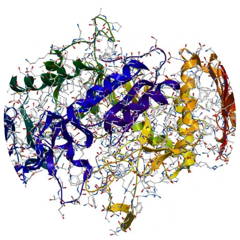 Breaks down the polysaccharides found in both the cell and biofilm of Candida.*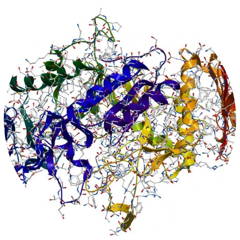 Breaks down the polysaccharides found in both the cell and biofilm of Candida.*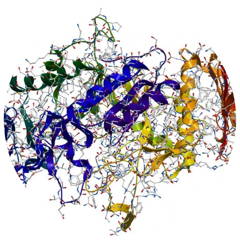 Breaks down the polysaccharides found in both the cell and biofilm of Candida.*
Always use between meals with at least 8 oz of water.
Day 1: (1) capsule; Day 2: (1) capsule twice daily; Day 3 and after: (2) capsules twice daily.
For maintenance: (1) capsule at bedtime.
Children: (1/2) capsule twice daily per 40 lbs.

Candida albicans is a fungal yeast that is literally everywhere. In other words, you can't keep it out of your body. If you have unhealthy levels, it can trigger a host of complaints, like localized (primarily vaginal or rectal) itching, depression, irritability, dizziness, unclear thinking, difficulty focusing, brain fog, fatigue, gas, bloating, diarrhea or constipation, rapid weight loss or gain, flatulence, and cravings for sweets or alcohol. These issues can range from mildly annoying to severely undermining you quality of life. Research from Rice University suggest that up to 70% of Americans are, to some degree, impacted by Candida.
How Does Candida Get Out of Control?
Under normal circumstances, your gut is home to a wide variety of beneficial bacteria called probiotics. If you have thriving populations of these bacteria, Candida is unlikely to present a problem. Candida, however, is highly opportunistic. If space is available, it multiplies in a hurry. Under ideal conditions, Candida can double its population every two hours.
In the modern world, probiotics face constant challenges. Antibiotics, oral contraceptives, chlorinated water (even in the shower or bath), poor diet and even stress can deplete them. When probiotic populations decline, yeasts have more room to grow.
For decades, natural gut balance protocols, like those designed to support healthy Candida levels, were limited to herbs that have mild antifungal properties. These herbs, however, have three problems. First, they are sometimes not so good for your liver. Second, yeasts can become immune to them. Third, they can cause "die off" reactions that make you feel worse instead of better.
The cell wall of Candida, and similar yeasts, are made of chitins, beta glucans, mannoproteins and glycoproteins. Like your skin or skeleton, the cell wall defines the yeast's structure. If it breaks down to a large enough degree, the yeast cannot survive.
Our founder, Jery Cochern, has studied Candida for over 30 years. It has a complex immune system that can produce countless counter factors to overcome the antifungal effects of herbs. However, it cannot change its cell wall. Thus, the challenge was to find the best way to break the cell wall down. The answer came as a highly specific group of digestive enzymes.
While words like MannoPROTEINS and GlycoPROTEINS make it seem that you would need protein digesting enzymes to break down substances that contains them, that fact is that you don't. These compounds are actually 65% to 90% carbohydrate with bits of proteins woven in. Further, Candida's cell wall is about 60% beta-glucan. The enzymes in Candex™ break these factors down.*
Candex™ is a fast acting, pleasant microbiome support system that requires no major dietary changes. It has been a first choice of both consumers and health practitioners for over 20 years for one simple reason – it works! But it doesn't just work – it works fast. You will begin feeling better in 10 days or less. And, you won't have to feel worse before you feel better.*
Candex™ has been the subject of both clinical and laboratory studies. In the clinical study, subjects were enrolled after tests showed higher than normal levels of Candida. Researchers concluded that all subjects improved and endorsed Candex™ as a first choice in natural yeast support systems. Pure Essence supplied the Candex™ used in the study, but did not in any other way fund it.*
Naturally, the success of Candex™ has spurred imitations. Most of these contain large levels of protease. However, protease is not necessary and might, when used between meals (as such products direct), aggravate ulcers and other gut issues that may accompany yeast overgrowth.*

Careful ingredient sourcing and using the right tests to ensure safety and quality are a priority for us. Here are our lab results for the current batch of Candex™.
It works for me!
I use this to help me digest raw vegetables and juices. It really helps!
Great Product!
I've tried a lot of Candida products, Pure Essence CANDEX, is fast acting and controls Candida Yeast and the only product that worked for me.
Blessed
So glad I found Pure Essence Candex I have tried many other brands in an effort to combat Candida Yeast and this is the only one that has truly worked.
Just the Best
For fighting level 1 Candida, there is just nothing like this product.
Candex
I love this product!! I have recurrent Thrush and Celiac disease. This pill helps with both that acts like Probiotics. Works great!